Trung tâm

 TTCNTT-TT&HL giới thiệu tới bạn đọc 5 cuốn sách tiếng anh chuyên ngành Ngôn ngữ,

Đây là những cuốn sách tiếng anh chuyên ngành về ngôn ngữ anh, sẽ giúp học sinh, sinh viên, người đi làm nhanh chóng cải thiện khả năng giao tiếp và sử dụng tiếng Anh lưu loát.

hi vọng sẽ giúp các bạn đạt được hiệu quả trong học tập và công việc. Xin trân trọng giới thiệu
1.The Routledge handbook of language and professional communication  /

 ISBN: 9780415676199
NXB:Routledge, 2014
Số ĐKCB: E.14429
DDC:302.2/071
Nội dung:
PThe Routledge Handbook of Language and Professional Communication provides a timely overview of the field of professional communication with a clear focus on language. Encompassing a wide range of approaches, the Handbook presents an intergrated approach to professional communication, covers the development of the field and looks to possible future directions. With cutting-edge contributions from leading international researchers and interviews with professionals from the fields studied, the Handbook is a vital resource for advanced undergraduates, postgraduates and researchers in applied linguistics and professional communication"– Provided by publishe
2.Explorations in the ethnography of speaking /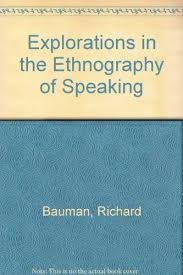 ISBN: 0521370639
Xuất bản: Cambridge ; New York : Cambridge University Press, 1989
Số ĐKCB: E.14430
DDC:408.9
Nội dung:
Introduction to the second edition; Part I. Preface and Introduction: Preface; Introduction; Part II. Communities and Resources for Performance: Introduction; 1. A quantitative paradigm for the study of communicative competence Gillian Sankoff; 2. Language identity of the columbian vaupés indians Jean Jackson; 3. 'Our ancestors spoke in pairs': rotinese views of language, dialect, and code James J. Fox; Part III. Community Ground Rules for Performance: Introduction; 4. Warm springs 'indian time': how the regulation of participation affects the progress of events Susan U. Philips; 5. Contrapuntal conversations in an Antiguan village Karl Reisman; 6. Norm-makers, norm-breakers: uses of speech by men and women in a malagasy community Elinor Keenan; 7. Speaking in the light: the role of the quaker minister Richard Bauman; Part IV. Speech Acts, Events, and Situations: Introduction; 8. Strategies of status manipulation in the wolof greeting Judith T. Irvine; 9. Rituals of encounter among the Maori: sociolinguistic study of a scene Anne Salmond; 10. Speaking of speaking: Tenejapa tzeltal metalinguistics Brian Stross; 11. Black talking on the streets Roger D. Abrahams; 12. Namakke, Sunmakke, Kormakki: three types of cuna speech event Joel Sherzer; 13. The concept and varieties of narrative performance in east European jewish culture Barbara Kirshenblatt-Gimblett; Part V. The Shaping of Artistic Structures in Performance: Introduction; 14. Correlates of cree narrative performance Regna Darnell; 15. An analysis of the course of a joke's telling in conversation Harvey Sacks; 16. When words become deeds: an analysis of three iroquois longhouse speech events Michael K. Foster; 17. The ethnographic context of some traditional mayan speech genres Victoria R. Bricker; 18. To speak with a heated heart: Chamula canons of style and good performance Gary H. Gossen; Part VI. Toward an Ethnology of Speaking: Introduction; 19. Data and data use in an analysis of communicative events Allen D. Grimshaw; 20. The ethnography of writing Keith H. Basso; 21. Ways of speaking Dell Hymes; Notes; References; Index of names.
3.Research methods in language policy and planning : A practical guide /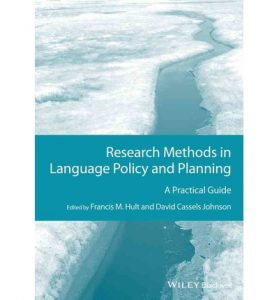 ISBN: 9781118308387
NXB: Publisher: Wiley-Blackwell (July 7 2015)
Số ĐKCB: E.14432
DDC:306.44/9
Nội dung:
Language policy and planning (LPP) is one of the fastest growing sub–disciplines of applied linguistics. This book is the first volume that is exclusively devoted to research methods in language policy and planning. As in other areas of applied linguistics, LPP scholars have drawn upon an array of research methods from a range of disciplines. This book is designed as a practical roadmap for those methods.Each chapter is written by a leading language policy expert and provides a how–to guide to planning studies, gathering data, and engaging with data analysis. In addition to this accessible structure, the book includes a series of guidelines for public engagement to help researchers as they endeavor to incorporate their work into public policy. Research Methods in Language Policy and Planning: A Practical Guide will serve as both a foundational methods text for graduate students and novice researchers and a useful methodological reference that experienced LPP researchers will find themselves returning to time and again.
4.Ideas and options in English for specific purposes /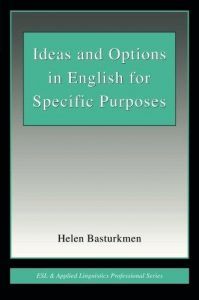 N:9780805844184
Xuất bản: Mahwah, N.J. : Lawrence Erlbaum Associates, Publishers, 2006
Số ĐKCB: E.14435
DDC: 428.2
Nội dung:
This volume presents a range of views about language, learning, and teaching in English for Specific Purposes (ESP). Its purpose is to go beyond individual cases and practices to examine the approaches and ideas on which they are based. The aim is for readers to adopt an analytical stance toward the field, to identify current perspectives in ESP and the ideas driving them. The text is geared toward graduate-level TESOL education courses." –Book Jacket

 ISBN: 9781472532060
NXB: Publisher: Bloomsbury Academic, 2009
Số ĐKCB: E. 08733
DDC:418.0071
Nội dung:
The study of teacher cognition – what teachers think, know and believe – and of its relationship to teachers' classroom practices has become a key theme in the field of language teaching and teacher education. This new in paperback volume provides a timely discussion of the research which now exists on language teacher cognition.The first part of the book considers what is known about the cognitions of pre-service and practicing teachers, and focuses specifically on teachers' cognitions in teaching grammar, reader and writing. The second part of the book evaluates a range of research methods which have been used in the study of language teacher cognition and provides a framework for continuing research in this fascinating field. This comprehensive yet accessible account will be relevant to researchers, teacher educators and curriculum managers working in language education contexts.