Giới thiệu 5 cuốn sách tiếng Anh hay về phương pháp giảng dạy và nghiên cứu
Trong chuyên mục "Sách hay kỳ này", Trung tâm Học liệu thuộc Trung tâm CNTT-TT&HL xin giới thiệu tới bạn đọc 05 cuốn sách Tiếng Anh về phương pháp giảng dạy và nghiên cứu. Đây đều là nguồn tài liệu tham khảo hữu ích với những độc giả học, nghiên cứu, giảng dạy tiếng Anh.
Bạn đọc quan tâm có thể đến Trung tâm Học liệu ( Tầng 2 – nhà C3, CT Khoa Pháp) để được phục vụ. Dưới đây là một số thông tin vế 5 cuốn sách đó:
1. Understanding language classrooms : a guide for teacher-initiated action /
 
Nhà xuất bản:    Englewood Cliffs, N.J. : Prentice-Hall,
Năm xuất bản: 1989
ISBN: 0139359354
Đăng kí cá biệt : A-D41/02707
Kí hiệu phân loại: 418/.007
Nội dung: David Nunan (born 11 October 1949 in Broken Hill, Australia) is an Australian linguist who has focused on the teaching of English. His ELT textbook series "Go For It!" is the largest selling textbook series in the world with sales exceeding 2.5 billion copies.
Nunan's academic and student textbooks are published by Cambridge University Press, Oxford University Press, Anaheim University Press, Palgrave/Macmillan, and the EFL publishing division of Cengage Learning. Nunan is Vice-President for Academic Affairs at Anaheim University based in Anaheim, California. Nunan serves in a concurrent role as Dean of the Graduate School of Education and Professor of Teaching English to Speakers of Other Languages (TESOL) at Anaheim University where he has worked since 1996.
In 2000, Nunan served as President of TESOL Inc., the world's largest language teaching association, and was the first person to serve as President from outside North America. Previously Nunan has served as Chair and Professor of Applied Linguistics at the University of Hong Kong and has been involved in the teaching of graduate programs for such institutions as the University of Hawaii, Monterey Institute for International Studies, Sophia University, Chulalongkorn University, Thailand and many others. He is Academic Advisor to the GlobalEnglish Corporation, and is on the Executive Committee of The International Research Foundation for English Language Education.
Nunan began his career in Teaching English as a Second Language (ESL) in Sydney, Australia before completing graduate studies in the United Kingdom. He has worked as a teacher, researcher and consultant in many countries including Australia, the United Kingdom, the United States, Thailand, Singapore, Japan, Hong Kong and in a number of Latin American countries.
In 2002 Nunan received a congressional citation from the United States House of Representatives for his services to English language education through his pioneering work in online education through Anaheim University. In 2003 he was ranked the 7th most influential Australian in Asia by Business Review Weekly, and in 2005 he was named one of the top "50 Australians who Matter". In November 2006 Nunan was awarded the Convocation medal for outstanding achievement and contribution internationally to the profession of Teaching English as a second language, from Flinders University, where he earned his Ph.D. in Education and Linguistics. In December 2006 Nunan was invited by the Australian Prime Minister to attend the Advance Leading 100 Global Australians Summit in Sydney, Australia.
2. Communicative language testing /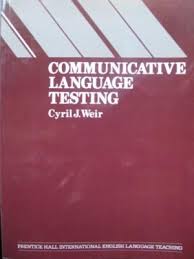 Tác giả: Weir, Cyril J.
Xuất bản: New York : Prentice Hall,
Năm xuất bản: 1990
ISBN: 0131552848
Đăng kí cá biệt: A-D41/02678
Kí hiệu phân loại:
Nội dung: 1. Approaches to language test design: a critical review. The psychometric – struturalist era; The psycholinguistic – sociolinguistic era; The communicative paradigm; The problem of extrapolation – 2. Basic considerations in test design: The con
3. Research methods for English studies /

Xuất bản: Edinburgh : Edinburgh University Press,
Năm xuất bản: 2013
Số ISBN: 9780748683437 (pbk.) :.
Đăng kí cá biệt: F.07252
Kí hiệu phân loại:
Nội dung: Introduces readers to a wide range of research methods for use in English Studies. With a revised Introduction and with all chapters revised to bring them completely up-to date, this new edition remains the leading guide to research methods for final-year undergraduates, postgraduates taking Masters degrees and PhDs students of 19th- and 20th-century Literary Studies.Written by a range of distinguished contributors, each chapter centres on one particular method, offering both concrete practical advice on how to utilise it and exploring some of the methodological issues that are involved in the use of the particular method. The chapters cover research methods familiar to English scholars such as textual analysis, as well as those less commonly explored such as visual and quantitative methods, which also contribute significantly to research in English Studies. Other approaches discussed include auto/biographical methods, discourse analysis, interviewing, archival methods, ethnographic methods, oral hist
4. The struggle to teach English as an international language /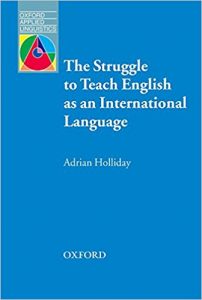 Năm xuất bản:
2006
ISBN: 0194421848
Đăng kí cá biệt : A-D41/06972-74
Kí hiệu phân loại:
Nội dung:
This book addresses the issue of how to teach English in diverse locations. Central to the discussion is the balance of power in classroom and curriculum settings, the relationship between language, culture, and discourse, and the change in the ownership of English.
List of illustrations – Preface and methodology – The struggle for new relationships – Culturist perceptions of "us" and "them" – The legacy of lockstep – "Learner – centredness" and "autonomy" – Social autonomy and authenticity – "Stakeholder – centredness" – Critiquing appropriate methodology – The struggle for cultural continuity
5.English language teaching methodology : teacher's workbook /
Năm xuất bản: 2003
ISBN:
Đăng ký cá biệt:A-D41/07134
Kí hiệu phân loại:
Nội dung:
Introduction to methodology; Some Common Teaching Methods; Roles of Language Teacher; Language Learning and The Language Learner – Classroom management; Using Visual Aids; Eliciting; Giving and Checking Instructions; Making it Meaningful; Correction; Work Arrangements – Teaching the 'What'; Shape of a Language Lesson; Teaching Vocabulary; Teaching Grammar: The Presentation Stage; Teaching Grammar: The Practice Stage; Teaching Grammar: The Production Stage; Teaching Pronunciation – Teaching the 'How"; Shape of a Skills Lesson; Teaching Listening; Teaching Reading; Teaching Writing; Teaching Speaking – Lesson planning and materials; Introduction to Lesson Planning; Problems Involved in Lesson Planning; Variety and Flexibility in a Lesson Plan; Criteria for Evaluating Lesson Effectiveness; Criteria for Evaluating Textbooks – Testing; Testing Purposes; Types of Tests and Testing; Test Writing – Teaching practice; Teaching Practice Preparation; Giving Oral and Written Feedback; Practical Observation and Giving Feedback.